In this paper we propose a text-based search technique for
allowing content-based query (a.k.a., query by example) on
software model repositories so as to retrieve signicant models
or model fragments. This search paradigms allows for
searching for a model or pattern specied in a coarse way.
Our approach encompasses the analysis and indexing of models
using textual information retrieval techniques, according
to dierent indexing strategies, so as to maximize the perceived
value of the results. We detail the proposed theoretical
Marco Brambilla, Piero Fraternali, Carmen Vaca. "BPMN and Design Patterns for Engineering Social BPM Solutions". 4th Workshop on Business Process Management and Social Software (BPMS2'11), co-located with BPM 2011, August 2011, Clermont-Ferrand, France.

Abstract:
The integration of social software and BPM can help organizations harness the value of informal relationships and weak ties, without compromising the consolidated business practices embedded in conventional BPM solutions. This paper presents a process design methodology, supported by a tool suite, for addressing the extension of business processes with social features. The social process design exploits an extension of BPMN for capturing social requirements, a gallery of social BPM design patterns that represent reusable solutions to recurrent process socialization requirements, and a model-to-model and mode-to-code transformation technology that automatically produces a process enactment Web
application connected with mainstream social platforms.
Paper Type:
Scientific/Research paper at International Workshop
Topics:
WebML
Social BPM
BPMN
BPM
Marco Brambilla, Piero Fraternali, Carmen Vaca Ruiz. A model-driven approach to Social BPM applications. In Social BPM Handbook, BPM and Workflow Handbook series, Future Strategies, USA, June 2011, pp. 95-112.
Abstract:
It addresses the design and development of BPM solutions that encompass communication with social tools, open-ended communities of performers, and allocation and execution of tasks to actors not known at process design time, through interactions with social network platforms. The core of the proposed approach is threefold: At the methodological level, providing a framework for understanding the ways to incorporate social interactions in business processes; at the notational level, verifying the capacity of a mainstream process modeling language (BPMN 2.0) to express social interactions and cover Social BPM requirements; at the technical level, exploiting model-driven software engineering techniques to produce applications enacting the social process directly from the (extended) BPMN process schema.
The main contributions of the chapter can be summarized as follows:
A classification of Social BPM adoption levels.
An extension of BPMN enabling social activities, events and conditional process flows.
An extension of the WebML (Web Modeling Language) for expressing Web applications interacting with social platforms, through abstract operations represented as components and design patterns.
A technical framework for generating Social BPM applications directly from specifications encoded in the social extension of BPMN 2.0, based on model transformations and on a runtime architecture integrating business process execution and social task enactment, implemented in a commercial tool suite called WebRatio BPM.
Topics:
WebML
Social BPM
BPM
BPMN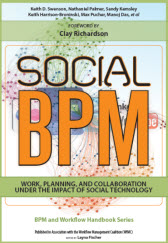 Khalid Belhajjame, Marco Brambilla. Ontological Description and Similarity-Based Discovery of Business Process Models. International Journal of Information System Modeling and Design (IJISMD), IGI Publishing, vol. 2, issue 2, 2011, pp. 47-66.
Abstract:
Project repositories are a central asset in software development, as they preserve the knowledge gathered in past development activities. Locating relevant information in a vast project repository is problematic, because it requires manually tagging projects with accurate metadata, an activity which is time consuming and prone to errors and omissions. Just like any other artifact or web service, business processes can be stored in repositories to be shared and used by third parties, e.g., as building blocks for constructing new business processes. The success of such a paradigm depends partly on the availability of effective search tools to locate business processes that are relevant to the user purposes. A handful of researchers have investigated the problem of business process discovery using as input syntactical and structural information that describes business processes. This work explores an additional source of information encoded in the form of annotations that semantically describe business processes. Business processes can be semantically described using the so called abstract business processes. These are designated by concepts from an ontology which additionally captures their relationships. This ontology can be built in an automatic fashion from a collection of (concrete) business processes, and this work illustrates how it can be refined by domain experts and used in the discovery of business processes, with the purpose of reuse and increase in design productivity.
Paper Type:
International journal paper
Topics:
BPM
BPMN
Model Retrieval
Information Retrieval
Ontology
Business Process
Model Similarity
Two search computing demos have been accepted and will be presented at the international conferences:
WWW 2011, Hyderabad, India
SIGMOD 2011, Athens, Greece
Alessandro Bozzon, Marco Brambilla, Francesco Corcoglioniti, Salvatore Vadacca. A Service-Based Architecture for Multi-domain Search on the Web. In International Conference on Service-Oriented Computing (ICSOC 2010). Paul Maglio, Mathias Weske, Jian Yang, Marcelo Fantinato (eds.). Springer LNCS, Vol. 6470 (2010), pp. 663-669. doi:10.1007/978-3-642-17358-5_53
Abstract:
Current search engines lack in support for multi-domain queries, i.e., queries that can be answered by combining information from two or more knowledge domains. Questions such as Find a theater close to Times Square, NYC, showing a recent thriller movie, close to a pizza restaurant have no answer unless the user individually queries different vertical search engines for each domain and then manually combines results. Therefore, the need arises for a special class of search applications that combine different search services. In this paper we propose an architecture aiming at answering multi-domain queries through composition of search services and we provide facilities for the execution of multi-domain queries and the visualization of their results, at the purpose of simplifying the access to the information. We describe our service-based architecture and the implemented optimization and distribution options, and we evaluate the feasibility and performance of our approach.
Paper Type:
Scientific/Research paper at International Conference
Topics:
Search Computing
Search Engine
Web Services
SOA
Marco Brambilla, Stefano Butti. Multi-faceted BPM. In BPMN 2.0 Handbook. Chapter 5, pp. 73-84, December 2010, Future Strategies Inc., USA.
Abstract:
We claim that business process models per se are not enough for representing the complexity of real world software applications that implements them; therefore other design dimensions must be taken into account in the analysis, design, and implementation of applications.
The gap between process modeling and application development can be alleviated by increasing the degree of automation in the design, implementation and maintenance of applications derived from process models.
We propose an integrated design approach to BPM that comprises modeling of business processes, application structure, master data, and user interaction, together with automatic model transformations among them. In this way, it is possible to work at different levels of abstraction and get quick prototypes to be discussed with the customers, but also generate production applications to be delivered as finalized systems. Indeed, the models allow the designers and analysts to work on orthogonal aspects of the design, and to fine tune the final application in several ways, e.g., by integrating the visual identity of the organization, plugging in new components, or connecting the business process to legacy applications via Web Services.
Book presented at the XPDL & BPMN user group forum in Santa Clara, CA, USA, on December 2nd, 2010.
Thumbnail:
Stefano Ceri, Adnan Abid, Mamoun Abu Helou, Davide Barbieri, Alessandro Bozzon, Daniele Braga, Marco Brambilla, Alessandro Campi, Francesco Corcoglioniti, Emanuele Della Valle, Davide Eynard, Piero Fraternali, Michael Grossniklaus, Davide Martinenghi, Stefania Ronchi, Marco Tagliasacchi, Salvatore Vadacca: Search Computing: Managing Complex Search Queries. IEEE Internet Computing, vol. 14, no. 6, pp. 14-22, Nov./Dec. 2010, doi:10.1109/MIC.2010.106
Abstract:
Search computing focuses on building answers to complex search queries (for example, "Where can I attend an interesting conference in my field near a sunny beach?") by interacting with a constellation of cooperating search services, and using result ranking and joining as the dominant factors for service composition. The service computing paradigm has so far been neutral to the specific features of search applications and services. To address this weakness, search computing advocates a new approach in which search, join, and ranking are the central aspects for service composition.
Paper Type:
International journal paper
Topics:
Search Computing
Search Engine
SOA
Exploratory Search
Thumbnail:
Alessandro Bozzon, Marco Brambilla, Sara Comai: A Characterization of the Layout Definition Problem for Web Search Results. In Robert Meersman, Tharam S. Dillon, Pilar Herrero (Eds.): On the Move to Meaningful Internet Systems: OTM 2010 Workshops, DATAVIEW workshop, Springer LNCS, Vol. 6428, Springer 2010, ISBN 978-3-642-16960-1, pp. 150-159.
Abstract:
In the last years the user information seeking process on the Web has shifted from document search to object search. Hence, the answers provided by Web search engines cannot consist any more in a mere list of pages. In this paper we consider queries returning mono-, ambiguous, or multi-domain results, where the domain represents a specific field of interests such as City, People, Movies, etc. and we characterize the problem for the definition of the layout of such results. In particular, we describe a conceptual definition of the Web search result layout problem, by identifying: the parameters involved in the layout design, the tuning dimensions available for optimizing the result layout, and the possible strategies that can be adopted for producing such layouts. Finally, we provide an outlook on the possible future research directions on this topic.
Paper Type:
Scientific/Research paper at International Workshop
Topics:
Search engine
Page layout
Title: Trends and challenges in Business Process Management (BPM)
Date: Wednesday, October 20, 4pm
Speakers:
Marco Brambilla, Politecnico di Milano
Stefano Butti, Web Models Srl
Abstract:
This workshop highlights the current challenges in the Business Process Modeling and Management fields, including: